So where do you find yourself with this deep ugly emotion? The picture to the last post is so perfect. "can't spell failure without U." This is the place it comes from –you pointing your finger at you and criticizing or degrading. I didn't make it on the bike ride, but I did go and reach out to some friends, and connect with some of the many people who have blessed my life and thank them, and then spent some time with my kids. Amazing how fulfilling that it is. My conclusion? It really doesn't matter what one does because the feeling is there and it's really easy to distract yourself from the pain. Social Media, Sugar or any other drug of choice, TV, Exercise, Proving ones self to others. But these are all distractions and they just delay it: I've got to feel those ugly emotions to let out the pain of a past hurt. But I've got to let myself feel them in a safe space and be the observer instead of caught up in the whirlwind and then- it goes away and leaves a gift behind. Today, I am hurting a little and hiding a lot and thats okay. Tomorrow, I may hurt more but I will love more and be grateful for today for it is part of my journey.
You know what matters? People. People matter. I am surrounded by so many wonderful people. It takes my breath away how much they care about me. Especially when I am feeling insignificant. Thank you, people.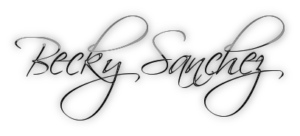 Becky has dispelled the myth that you can't have it all… Becky's a Mom of 6, a loving wife and a purposeful parenting coach. Her level of self-awareness and her continual focus on being her best self is what sets her apart. Becky is a Conscious Coach who can truly help any person awaken to their highest purpose. A nurturer to her core… Becky's work is at the heart of what our families most need… as she provides the pathway to self-love, family connectedness and, ultimately, a better community and a higher level of consciousness that is changing our World for the better.